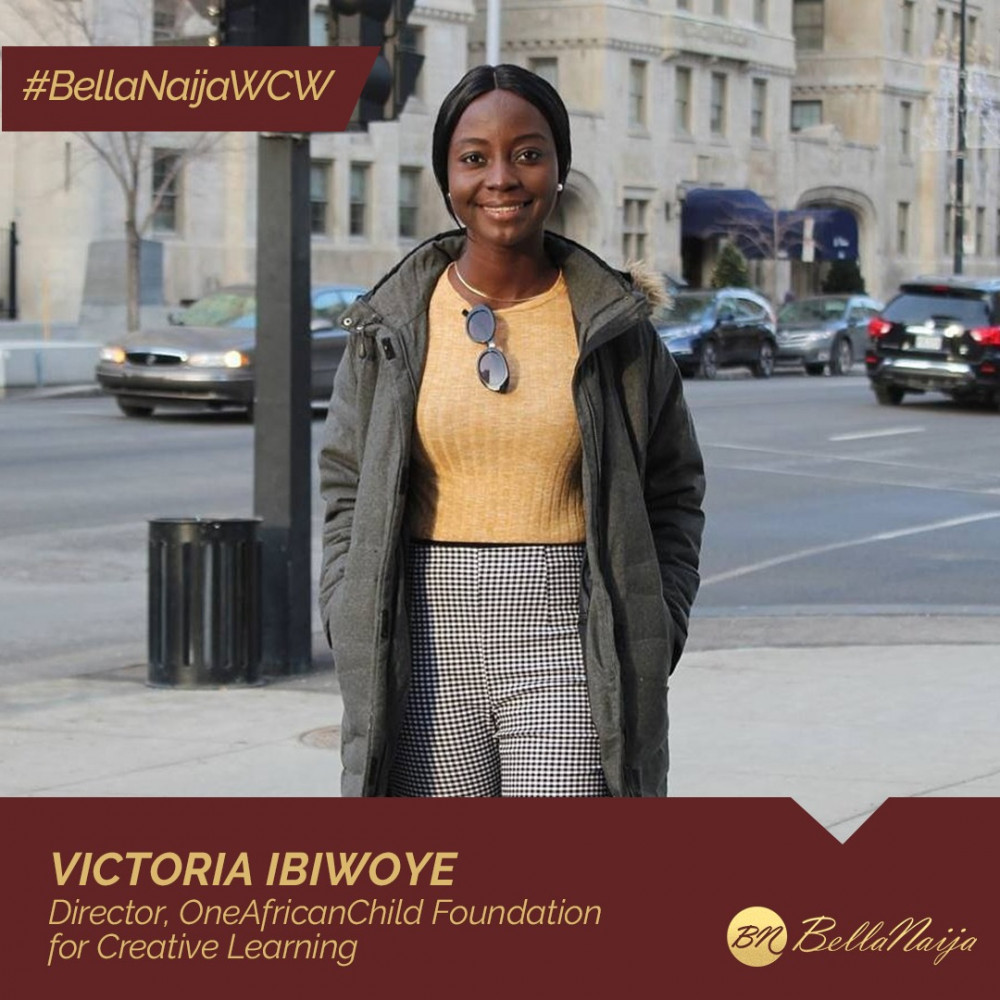 Every child, irrespective of their learning abilities, has a right to education, and our  #BellaNaijaWCW this week is seriously pushing that agenda and making sure that happens.
Victoria Ibiwoye is the young individual fighting for the African child, making sure that no one is left behind when it comes to education.
She's the Director of OneAfricanChild Foundation for Creative Learning – a non-profit organisation promoting education for sustainable development through activity based workshops for low income community children in Africa.
Victoria, a Law graduate from the University of Ibadan, leads over 100 youth volunteers in Nigeria, Cameroon, Malawi, and Zimbabwe.
OneAfricanChild foundation focuses on empowering low-income community children between the ages 5-18 with life skills in global citizenship and peace education enabling them to become sustainable thinkers and change agents.
She's also the Youth Representative to the SDG-Education 2030 Steering Committee, the main global multi-stakeholder mechanism for consultation and coordination for education at the UN level.
As a child, Victoria struggled with learning at school and coping with the school curriculum. She found it difficult to assimilate quickly and communicate with her teachers and peers. She was constantly bullied because she couldn't speak up for herself. She came to find out later in life about Dyslexia.
"I wish someone had been there to guide me through the difficult moments I faced as a child; feeling like a misfit," she said at the SDG-Education 2030 Steering Committee's third meeting in 2017, advocating for education for every child.
She also works with the UNESCO Global Education Monitoring Report team, campaigning for individuals to legally claim their right to education in law.
In 2015, Victoria took part in the U.S Institute of Peace, Generation Change Fellows Program and have gone on to facilitate regional and global workshops for young peace-builders across the world to strengthen their skills, build resilience and join a community of practice working to counter violent extremism.
Victoria an advocate of Global Citizenship Education (GCED) and the regional focal point of the United Nations Major Group on Children and Youth (UNMGCY) for West and Central Africa.
We're celebrating Victoria for being a voiced for children in marginalised communities and transforming their lives through creative learning and empowerment initiatives.
The post #BellaNaijaWCW Victoria Ibiwoye of OneAfricanChild Foundation is Pushing for Education for Every Child appeared first on BellaNaija – Nigeria breaking & top news to the World 24/7. Read Today.