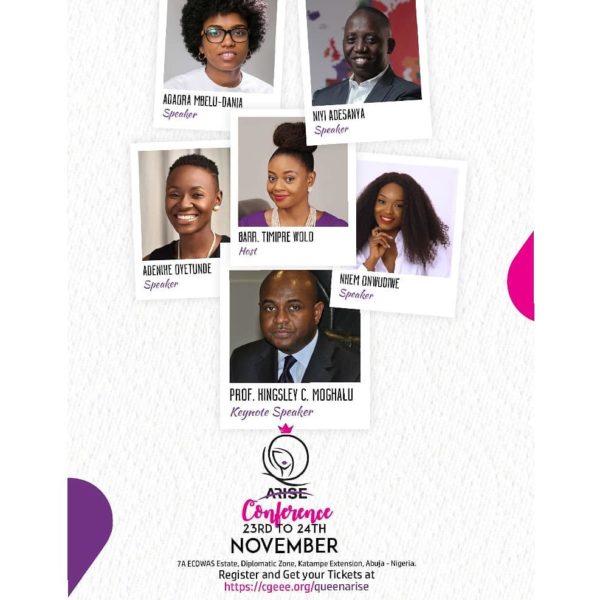 The Centre for Gender Equality, Education and Empowerment (CGEEE), is set to host the first of its Annual Queen Arise Conference on Friday, November 23rd and Saturday, November 24th, 2018 in Abuja. This is a relatable learning experience for a high-impact career, business, and personal development for young women.
Date: Friday, November 23rd and Saturday, November 24th, 2018
Venue: 7A ECOWAS Estate, Diplomatic Zone, Off Nura Iman Crescent, Katampe Extension, Abuja
The conference is centered on helping participants to discover, develop and maximize their potentials, foster relationships with mentors and coaches, be guided through practical models for self-development, listen to unique stories of mentors that will resonate with their experiences, and get the tools for self-empowerment.
The event is self-empowering in itself, challenging young women to push boundaries and unlock possibilities. Participants would be taught how to look within themselves to create opportunities and find motivation. Day 1 of the Conference will be all about Self-love with pampering experiences such as Fitness, Yoga, Massage, Manicure, Hair, and make-up etc. Other self-learning exercises include entrepreneurship role-play games, and How to create a vision board.
According to the Founder of GGEEE, Barrister Timipre Wolo, 'Queen Arise' which is a program under the CGEEE Mentorship Initiative is not just a Conference but an experience. It is loaded with real-life opportunities and giveaways, including: 5 Internship Placements with a very reputable Company with offices in Lagos and Abuja; 1 free business development Branding opportunity, free business registrations for 20 small businesses; one-on-one-coaching with experienced mentors and coaches in the fields of banking, Finance, business development and administration, Engineering, Oil & Gas, Construction, technology, Medicine, Legal, fashion design, Branding, Ministry and others.
This year's Conference Speakers are: Professor Kingsley Moghalu, Former Deputy Governor of the Central Bank of Nigeria; Adaora Mbelu-Dania, Director Trellis Group and Founder Socially Africa; Niyi Adesanya, Management Consultant and CEO FifthGear Plus; Adenike Oyetunde, Advocate, Media Personality and Executive Director Amputees United; Nkem Onwudiwe, Founder Her Network, and the Host, MD/CEO of TFN Energy and Founder of CGEEE, Barrister Timipre Wolo.
Other Mentors/Coaches are; Tope Runsewe, MD Dutum Company Ltd.; Helen Uchechukwu, CEO Window Story; Uche Uzoewulu, Sales Manager AFP; Dr. Ada Odili Oreh Kaibeya; Care Foundation, Dr. Seleipiri Akobo, Medical Practitioner, USA; Alex Okosi; Executive Vice President & Managing Director Viacom International Media Networks Africa & BET International, Yemi Idowu, Youth Pastor Living Faith Church, Goshen; Engr. Ken Worgu, DG Oil and Industrial Services, Dr. Nurrudeen Mohammed, Former Minister of State, Foreign Affairs; Esosa; Benson Imoh ST; Chief Technology Officer African Women in Leadership Organisation, Ekemini Akpakpan, General Manager African Women in Leadership Organisation, Chukwuma Okoraafor, Eseosa Okunbor, Group Head, HR & Admin, Ocean Marine Solution Ltd and Peter Linus.
Barrister Timipre who is passionate about creating opportunities for women and girls shares that she drew from a personal experience of losing her mother at a tender age of 12. There were enormous challenges she had to confront in her quest of pursuing her educational dreams and ambitions. She stated that while she was serving as the youngest member of the Petroleum Technology Development Fund's Management as pioneer Head of the Fund's Industry Collaboration Unit, she and her team initiated a number of life-transforming capacity building initiatives for youths across Nigeria, including pioneering the training of young Nigerians as internationally certified commercial helicopter pilots for the petroleum industry.
Barrister Timipre further stated that she found purpose in the course of service as during this time, she saw first-hand how education can transform lives. This fuelled her passion to continue to contribute towards ensuring that young girls have access to education and opportunities to unlock their potentials. She believes that education is the key that unlocks endless possibilities and that empowering women is the necessary tool for achieving sustainable development.
The Queen Arise Conference holds in Abuja at 7A ECOWAS Estate, Diplomatic Zone, Off Nura Iman Crescent, Katampe Extension, Abuja on Friday, November 23rd and Saturday, November 24th, 2018. The Conference will end with a Fundraising Dinner for the CGEEE Scholarship Initiative scheduled for 7 pm at the Lagos Hall of the Transcorp Hilton Abuja on Saturday, November 24th, 2018. Registration for the Conference is currently ongoing, click here to register. For enquiries about tickets for the Fundraising Dinner, please contact Jessica Abraham on +234 7033338384.
—————————————————————————————————————————————–
Sponsored Content
The post Centre for Gender Equality, Education and Empowerment (CGEEE) to host Queen Arise Conference for Young Women | November 23rd-24th appeared first on BellaNaija – Nigeria breaking & top news to the World 24/7. Read Today.